this is one of the most intense recordings i've ever heard. it's almost hard to believe there is only one drummer - but this is usually the case with milford graves.
professor graves has been a tenured teacher at bennington for over a quarter of a century. he's recorded with albert ayler, miriam makeeba, sonny sharrock, bill dixon, sun ra, john zorn, william parker, david murray, and many others.
he is my favorite drummer.
here
is an interview with him about his career as a musician, teacher, and a music therapist.
babi music is one of those recordings that is hard to explain. it is ferocious, to say the least. some people would appreciate it for it's sheer voracity, it's noise - but i like it because it transcends music; it has an overpowering sense of spirituality.
this is a hard record to find, like a lot of milford's recordings. in fact there is a two record set of duets he and don pullen recorded live at yale in 1966; they are probably two of the most sought after free jazz records ever.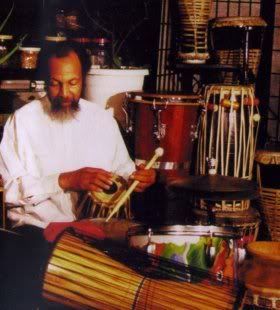 get babi music
here
sorry there are some skips in this one.