there is nothing that i could write to explain this recording. though i guess i could say that rev. frank wright is on it, which should be enough for one to get excited.
here it is, in all it's glory, the magnificent big band achievement by the one and only cecil taylor. long out of print; the cd alone could run you forty bucks...not that that should influence ones perspective of the music.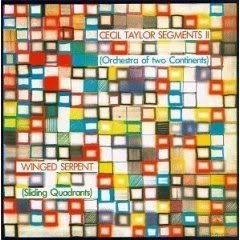 here's the lineup - basically the best band ever assembled, no?
Bass, Voice - William Parker
Bassoon, Voice - Karen Borca
Drums, Percussion, Voice - Andre Martinez
Drums, Voice - Rashied Bakr*
Mixed By - Giancarlo Barigozzi
Piano, Voice, Written-By - Cecil Taylor
Producer - Giovanni Bonandrini
Recorded By - Franco Zorzi
Saxophone [Alto], Voice - Jimmy Lyons (2)
Saxophone [Baritone], Clarinet [Bass], Voice - Gunter Hampel
Saxophone [Tenor], Clarinet [Bass], Voice - John Tchicai
Saxophone [Tenor], Voice - Frank Wright
Trumpet, Voice - Enrico Rava , Tomasz Stańko
Notes: Recorded October 22, 23 and 24, 1984 at Studio 7, Milano.
Mixed March 27, 1985 at BOB Studio, Milano.
download "segments II (orchestra of two continents) sliding quadrants (winged serpent)"
here