so i don't know if you could stretch the categorization of music so far as to call this album jazz...but it is jazz, to some degree anyway. nevertheless, joseph spence was from the bahamas, and he was a great guitar player. there is no doubt about this.
these are folk tunes on guitar in drop d. that is the simplest explanation. but i think the best way to explain this recording is to say that this is some of the best guitar playing ever recorded.
i hate explaining music, it's just so irrelevant. i find it's quite difficult to utilize english to explain sound. it's as if the two mediums are opposed to one another: you can hear one, and see the other. i am sure there is a way to translate; but i do not think i've mastered that art quite yet.
however, this person did a good job explaining j. spence despite the grammatical errors:
"
The Pinder Family lived in the Bahamas and were descended if not in blood then certainly in spirit from a long line of Island musicians.
Joseph Spence played the guitar and sang, if you can call it that. It's hard to say exactly what he did.
He grunted.
He snorted.
He made low gutteral noises, and then would suddenly break into a demented scat.
He would be singing along and his English would descend into complete nonsensical giberish.
Sometimes he almost sounded like Popeye. But whatever it was he was doing*, you could tell he meant business.
They say he looked like he was going into a trance when he played. The man was almost certainly filled with the Spirit.
And his guitar playing was phenomenal.
Sometimes even to this day while listening to him I wonder if my ears might be playing tricks on me.
Paired along with his voice, his guitar playing could weave incredibly complex rhythms and produce some of the most intriguing music I've ever heard to this day. His lackadaisical and carefree (almost irreverent) style is guaranteed to lighten any mood, and to hear his laugh always puts a smile on my face. Most people unfortunately would dismiss this sort of music offhand, if not because it seemed strange and exotic (and perhaps even frightening!), then because much of it was gospel. But any musician, or anybody with an ear for good music for that matter should immediately recognize its value."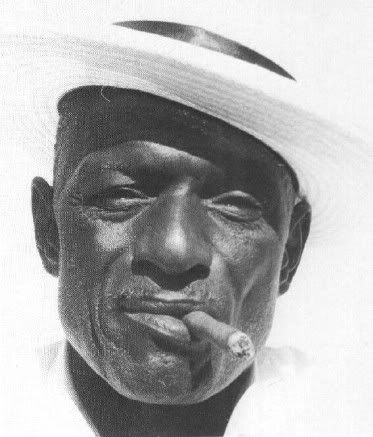 joseph spence played american and caribean folk songs on guitar. he is amazing. check him out
here