my good friend's father was an avid record collector. he had been since his youth, most of which was spent in new york city. i glanced through his collection once briefly - about 8 years ago or so - when i was visiting him in portland, oregon. i was in my late teens, and i had spent the last 4 or 5 years of my dishwasher's life crate digging and spending what little money i had on used jazz vinyl. i also hosted a weekly jazz radio show called "the changing same" in eugene. i was always on the mission to find new wax. i saw things on his shelves that day that i had only heard of - or better yet - never heard of. being an old school digger himself, he recognized my fascination. we listened to a few things, we had dinner, and i was on my way. when christmas rolled around i received a package from him that contained some dubbed tapes (i am still way into dubbed tapes) and a couple of records. the records were the coolest: cecil taylor, nuits de la foundation maeght, volumes 1 and 2 on shandar records. i saw him again, a couple of years later, when his daughter and i came through portland en route to europe via pdx. this would be our last meeting; he passed away this summer.
last week i was invited to look through the records he left behind. i pulled out about 20 gems, and was allowed to take them home.
in the next few weeks i am going to upload most of what i took home that day.
my first upload is an album by sun ra - i know its in print and all - but this the original. recorded in 1964, it was later released on sun ra's label, el saturn research. i prefer the sound of the original vinyl to the remastered discs that are available. this is lo-fi. but it has so much more character.
also, this is a very strange record for sun ra. here's a review for it i found on all music guide. i feel its quite accurate:
Review
by Sean Westergaard

This one is quirky, even in the Sun Ra catalog. Ra fronts a quartet, playing nothing but miniMoog and Rocksichord, along with Stafford James on electric bass, Danny Davis on alto, clarinet, flute and bongos, and John Gilmore on drums! Gilmore has a skittering approach to the drums, which are curiously miked with the hi-hat being especially prominent. Ra's playing doesn't get too far out, although the tones of the Rocksichord and miniMoog are rather humorous, and most of the tunes are quite playful. Davis provides some fine alto, clarinet and a number of freakouts, with James anchoring the proceedings. Davis and Gilmore switch roles for "Impromptu Festival" for a taste of Gilmore's tenor while "Dance of the Living Image" has Gilmore on drums and Davis on bongos. The best point of reference for this album is "The Perfect Man" off the Singles compilation, except "The Perfect Man" uses miniMoog exclusively, and Gilmore is a more solid drummer than Danny Davis. Lots of fun and slightly goofy, Night of the Purple Moon is an entertaining curiosity within a singularly unique discography.
so here you go. stay tuned for more.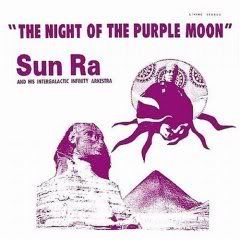 download sun ra and his intergalactic infinity arkestra "the night of the purple moon" here:
http://www.mediafire.com/?0zoj3cndvdw