this is an album that grabbed my ear instantly. it's 1973, just six years since coltrane's death. the sound has evolved drastically in this short period of time.
this is larry young's first non-blue note release since tony williams lifetime, on perception records. the freedom of the 60's, the funk of the 70's, and eastern influence are representing jazz simultaneously. the hammond b-3 organ has a whole new sound. oh, and the "mystery player" listed in this cast of about 20 is none other than pharoah sanders.
here's the rundown:
Abdul Shahid dr
Jumma Santos tom-tom, cow bell, conga, whistle, tambourine, hi-hat
Howard T. King dr
James Flores dr
Stacey Edwards conga
Don Pate b
James Blood Ulmer g
Umar Abdul Muizz conga
Armen Halburian conga, bells, perc
Diedre Johnson cello
Juni Booth b
Art Gore dr, elp
Abdul Hakim bongos
Poppy La Boy perc
Cedric Lawson elp
Mystery Guest (Pharoah Sanders) saxophones, voc
Dennis Mourouse sax, el sax
Charles Magee eltp
Larry Young org, bongos, voc
1.Saudia (Young) 4:28
2.Alive (Young) 1:50
3.Hello Your Quietness (Islands) (Young) 10:02
4.Sunshine Fly Away (Young) 8:37
5.Khalid of Space Part Two (Welcome) (Young) 12:20
Released as LARRY YOUNG - LAWRENCE OF NEWARK - Perception PLP 34
CD version of this record was first released 2001 on Castle Music CMRCD288
another gem from the vinly collection of the late rosario aglialoro. this record is amazing.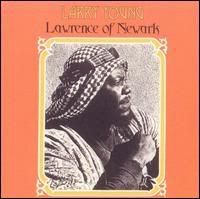 download it here