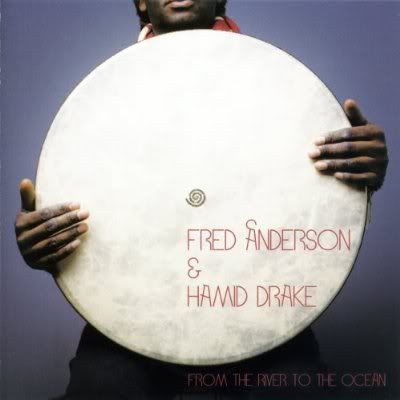 Hamid Drake is definitely one of the most exciting drummers in jazz music. His collaborations with William Parker are nothing short of amazing. Likewise his work with fellow native Chicagoan and elder statesman of jazz Fred Anderson. I've seen Anderson and Drake a handful of times in concert, together and separate, and every show has been wonderful. The thing I like about the two of them is that they work within a broader spectrum of jazz than most musicians do. There will be wild, free improvised solos that maintain a deep swing. There will be traditional jazz forms, passages in the music that could be labeled jazz in the strictest sense, yet don't sound like they are locked within the rules of the music.
Hamid Drake is an interesting fellow. I read somewhere he is a practicing Sufi. In his music he is all over the map. I saw him with a European free-form avante garde group whose music was more "art" than music; he took a 15 minute drum solo that was some form of abstract, off kilter, hip hop beat. He'll quote heavy Latin rhythms underneath wild, free form, noisy, ensemble improvisations. On more than one occasion I've seen him come out on stage alone and sit and play a large frame drum and sing in Arabic (something Hamid does on this record; the cover of the album is Hamid holding this frame drum) and literally "clap" the floor with his bare feet. And there is always a heavy presence of Reggae (he just release an album called "Reggaeology" with his group Bindu).
From the River to the Ocean is a beautiful record. I can't stop listening to it. And I think that it is a record that would appeal to just about everybody. From the hardcore free-jazz enthusiast, the more traditional jazz listener, and the music fan who may be a jazz noob.
Check it out. And if you like it, buy it.
Purchase via Thrill Jockey Records.
Musicians like these need our support.